Share The Love, Get Rewarded
Refer friends and family to join the Credit Union and you'll each get $25! Learn More
There are several ways you can qualify for membership.
Membership eligibility* is based on one or more of the following qualifying criteria:
Employment
You are a permanent, temporary or contract employee of one of the several elite employer groups offering the Credit Union's services as a valuable employee benefit.
Community Charter
Living or working in one of seven community charter counties: Cook (north of 95th street), DuPage, Kane, Lake or McHenry County in Illinois, Kenosha County in Wisconsin, or Puerto Rico. (If you are unsure if you qualify please contact one of our local branches or member relations.)
Family
You are the immediate or extended qualifying family of an existing member related by blood, marriage, fostering or adoption. Eligible family members include: spouses, parents, children, siblings, domestic partners, grandchildren, grandparents, aunts, uncles, nieces, nephews, and cousins.
Life. Money. You.®
You are subscribed to Life. Money. You.®, a financial well-being program designed to help you set plans, make moves, and build better money habits with your unique goals at the forefront.
Benefits of Credit Union membership will always be available
to you and your family, no matter where life takes you.
Our commitment to your financial well-being is truly a lifelong promise.
Relocating to a new area? No problem!




Changing jobs? The Credit Union goes with you.




Retiring? We've Got Your Back then, too.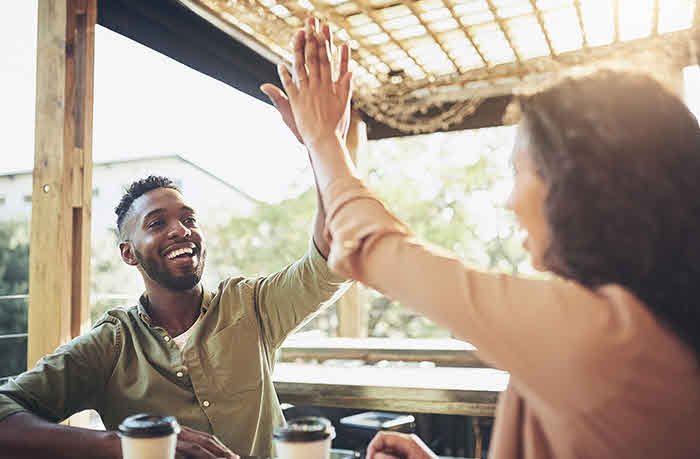 Ready to join? Begin by submitting a membership application.
Once approved, we'll make a one-time $1.00 deposit to your Share-01 Regular Savings account, making you both a member and part-owner of the Credit Union. You and your family can then start enjoying the rewards of membership right away!
Frequently Asked Questions
Anyone! Refer friends and family to the Credit Union and get $25*.
If your referral lives outside of the Chicagoland area and does not currently work for one of our Company Partners, they may be eligible for BCU membership through Life. Money. You.® subscription. Learn more.

Why should my friends and family join?

The Credit Union is owned by its members, not faceless stockholders. That's why friends and family can expect lower rates, lower fees (and no fees when possible), higher dividends, and more innovative products and services than they'd get at many other financial institutions. Accounts are federally insured up to $250,000 by the National Credit Union Administration (NCUA), a U.S. government agency. Individual Retirement Accounts (IRAs) are insured separately for $250,000.
Partner Companies
Allergan Medical Optics | Althoff Industries | Archdiocese of Chicago | Astellas | Baxter Healthcare | Baxter Credit Union
Beckman Coulter | Becton Dickinson | Bella Vista Hospital | Beltone | Boston Scientific | Bowe Bell & Howell | Brookfield Properties
Brunswick Corporation | Cardinal Health | CVS Health | Catalent Pharma Solutions | Catamaran | CDW
Centegra Health Care | Coopervision | Corsolutions Medical | Curran Group, Inc. | Deloitte & Touche | Edwards Lifesciences
Envista | Ellman International | Encompass Group | Faulding | Fenwal, Inc. | Fresinius (FMC) | GEICO | GFX International
Global Healthcare Exchange | Hill-Rom Holdings, Inc. | HCA Healthcare | HMS Capital, Inc. | Horizon Hospice & Palliative Care | Hospital La Concepcion | Hospital Menonita | Hospital UPR | Infac India Group | Integra Neurosciences | Intralase Corp. | IPA Omega | ITW | Journeycare | Kesem
Kingston | Knaack, LLC | Komatsu | Lake Forest Graduate School of Management (Staff, Faculty, Current Students) | Lifewatch | LSI
Marshall Reddick Seminars, Inc. | Medassets, Inc. | Medline Industries, Inc. | Midwest Palliative & Hospice Center | Migrant Healthcare Center | Navilyst Medical | Neoforma Neurosource | Nexell Therapeutics | Palliative Carecenter & Hospice of the North Shore | Panasonic Avionics | Physiotherapy Associates
Prime Coat | PSCU | Radiometer | Quill Corporation | Residential Real Estate Council | Rexam Medical Packaging | Reyes Holdings | Rust-Oleum Corporation
Sage Products | Sciex | Scotsman Ice Systems | Seguros Multiples | Segway | Shire | Signode Industrial Group, LLC
Snap on Incorporated | Stryker Corporation | Sunrise Medical, Inc. | Target (Team Member or Contractor) | TeamHealth
Thermometrics | TransUnion | Trammell Crow | Trivity Health | Trustmark | UnitedHealth Group, Inc. | Verizon California, Inc.
Watlow Company | Zebra Technologies Corporation | Zimmer Caribe, Inc.
*Membership Eligibility Policy