BCU Receives CUNA Council Award for Excellence in Operations and Member Experience
October 21, 2019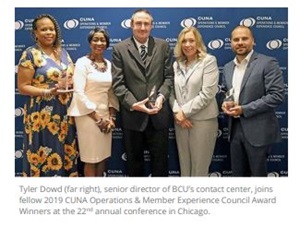 BCU (3.2B) was recently honored with an Excellence in Operations & Member Experience Award, which recognizes innovative solutions optimizing credit union performance.
The award was presented by the Credit Union National Association (CUNA) Operations and Member Experience Council at the Council's 22nd annual conference in Chicago, IL. BCU was recognized for outstanding achievement in the Contact Center/ESupport Operations category for its "BCU Stands Up Puerto Rico Call Center" entry; an initiative built around convenience for the member, a forward-thinking mindset, and taking an innovative approach to member service.
STANDING UP THE HUB
Redefining BCU's contact center operations began in 2018 when the Credit Union's leadership challenged the service contact center team to elevate their servicing model while expanding on business continuity capabilities. Internally branded as "The Hub", the Credit Union's contact center had witnessed a 29% workload increase since 2016 to support its growing membership base. With a new member growth target of nearly 20% in 2019, the team knew it would take courage and innovation to see results.
After several years of working with an outsource service partner to support call volume, BCU made a strategic decision to invest in standing up a new internal contact center site in Puerto Rico.
Shifting the business model from an external agency to a larger internal team proved wildly successful. As a result of the expansion the Credit Union has eliminated over 8,000 service interactions directed to its outsource partner per month and is projected to save $600,000 in planned outsourcing costs in 2019 – savings the Credit Union has committed to reinvesting back into its membership base and local communities in Puerto Rico, and into creating new job opportunities on the island.
CREATING A BENCHMARK SERVICE MODEL
There's more to the recognition than an expanded contact center, though. Dowd's team has made an effort to invest in employee development and coaching, as well.
"We are focused on driving a simple, effortless experience in each of our member interactions. This standard of excellence starts from day one of training," Tyler Dowd, senior director of BCU member service, said. "To ensure each member's journey reaches our service standards, we use speech analytics in the contact center to gather, monitor, and analyze the experiences we are driving. Then, our supervisors review both member and agent sentiment in each interaction by looking at strengths and potential opportunities."
The result has been an increase in NPS scores and more efficient interactions. To date, the Credit Union's members can expect to speak with an agent 76 seconds sooner and have their questions answered 59 seconds faster under the new model.
"To me, the award means that we are focused on the right areas in member experience and operations," Dowd said. "We're now viewed as a benchmark contact center for the industry because we prescribe to a service model that our members appreciate, one that focuses on a simple and effortless experience."
Five credit unions were honored as winners of the 15th annual CUNA Operations & Member Experience Council's Excellence Awards at the Council's 22nd annual conference, which took place September 11-14, 2019.