BCU Awards Over $75,000 In Scholarships To College Bound High School Seniors
September 18, 2020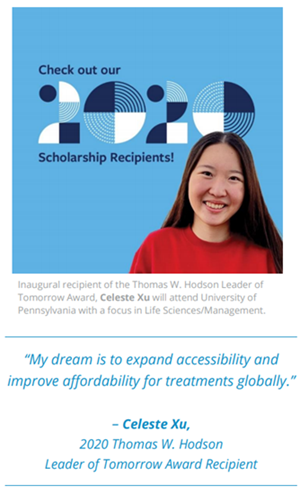 In these challenging times, BCU proved its commitment to celebrating graduating high school seniors is stronger than ever, providing 30 scholarships in the total of $78,500 – the Credit Union's biggest return yet.
This year's recipients represent nineteen states from coast to coast, with students planning to attend Stanford University, Texas A&M University, Virginia Tech, Purdue University, University of Notre Dame, and more.
Newly introduced in 2020 is the Thomas W. Hodson Leader of Tomorrow Award, an annual scholarship that recognizes an incoming college freshman who demonstrates strong academic leadership and achievement. The $5,000 award honors four decades of service given by Hodson, who retired from BCU's board of directors in 2020, and is now named Chair Emeritus.
The inaugural recipient of the prestigious award was Celeste Xu of Buffalo Grove, IL, in recognition of her dedication to community service, standout academic performance, and strong leadership potential. An active member of numerous committees, Celeste has demonstrated outstanding leadership in her roles as the Model United Nations co-secretary-general and Freshman Mentor Program advisory leader. She is also a dedicated volunteer at the Lurie Children's Hospital of Chicago.
"Celeste is a shining example of BCU's Shared Values in action," said Mike Valentine, BCU President & CEO. "She has a clear passion for collaboration, courage in identifying opportunities for growth, and a natural leader in providing mentorship to others."
For the fourth consecutive year, BCU additionally awarded the Samuel G. O'Kelly Memorial Scholarship for outstanding commitment to community service. Claire Kawiecki of Riverside, IL, received the prestigious award in 2020, while her twin brother, Daniel Kawiecki, also earned a BCU Scholarship. Together, the twin duo upheld the legacy created by sibling Joseph Kawiecki, who was the first of this family to receive a BCU scholarship in 2019.
In addition to doubling the total dollar amount awarded in Scholarships this year, the Credit Union continues to support its communities in need, donating $10 to the Feeding America® COVID-19 Response Fund for every scholarship application received. To date, BCU has provided more than 45,000 meals to families impacted by school closures and financial hardships.
Since 2014, BCU has awarded nearly $200,000 in scholarships to college-bound high school seniors and opened the door for many educational opportunities. The scholarship program was established to assist members of the Credit Union who plan to continue their education. The awards are offered annually to graduating high school seniors to support full-time study at an accredited institution of the student's choice. Selection of the criteria includes academics, participation in community activities, and demonstration of the Credit Union's Shared Values, with eligible applicants required to write a short essay.
View the full list of BCU's 2020 Scholarship Award recipients.