BCU announced the election of William (Bill) F. Costa to its board of directors.
October 7, 2020
CHICAGO – Costa is the former chairman of GEICO Federal Credit Union (GFCU), which merged with BCU to form the new GEICO Credit Union in August of this year.
Costa's role on the Credit Union's board of directors represents the strong relationship between BCU and its newest Company Partner, GEICO. "BCU has a proven track record or delivering a best-in-class workplace banking solution for large companies like GEICO that care deeply about the well-being of their workforce," Costa said.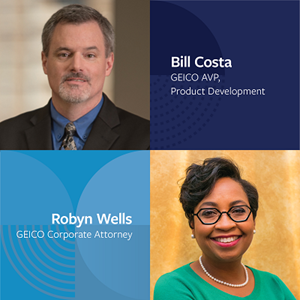 Costa began his career in GEICO's actuarial department in 1986, where his career progressed through pricing, reserving, and research. In 2002, Costa was named business sponsor of the enterprise data warehouse, before joining the Internet business unit in 2005 to create a customer metrics team. With Costa's promotion to assistant vice president in 2007, he has worked extensively to enhance the insurance product including underwriting models, vendor relations, policy standards for applications and regulatory compliance. Since 2018 Costa has led GEICO's product development and data science practices.
In addition to serving on BCU's board of directors, Bill is a Fellow of the Casualty Actuarial Society and member of the American Academy of Actuaries.
BCU also announced the election of corporate attorney Robyn C.S. Wells to its supervisory committee.
With over 20 years of experience at GEICO, Wells is uniquely prepared for her current position and draws on her in-depth knowledge of insurance and brings strength in various other disciplines.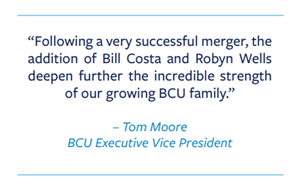 Well-versed in insurance law, general corporate legal matters, employee retirement benefits, and complex commercial litigation, Ms. Wells has worked as an attorney in the Office of the General Counsel at GEICO since 2005. Previously she has served in multiple other capacities within the company, including marketing, claims, and IT.
"We are delighted to welcome Bill Costa to our board of directors and Robyn Wells to our supervisory committee," said Mike Valentine, BCU President & CEO. "Together, the insight and experience Bill and Robyn bring to the Credit Union will be invaluable in supporting our continued growth and future success."
On August 17, 2020, the merger between GEICO Federal Credit Union and BCU was successfully completed. Adding GEICO to its field of membership, BCU becomes the 56th largest credit union in the US, serving nearly 300,000 members across the US and Puerto Rico.
With the announcement of Tom Hodson's retirement from BCU's board of directors, Tom continues to hold the honorary title of Chair Emeritus and strongly supports the board and committee appointments of Costa and Wells.
In June 2020, BCU was named to the annual Forbes list of Best-In-State Banks & Credit Unions for the second consecutive year, ranking #1 in Illinois and #5 in Minnesota. Members voted BCU to the top spot based on overall satisfaction, trust, service, product offerings, and financial well-being resources.
To learn more about GEICO Credit Union, a division of BCU, visit GEICOcu.org.