BCU Awards $93,000 in Scholarships to Undergraduate Students
August 22, 2022
CHICAGO – Empowering People to Discover Financial Freedom is not just BCU's purpose, it's also their passion. 2022 marks the ninth year that BCU is "Here Today For Your Tomorrow," helping students explore what they're most passionate about – in school and beyond.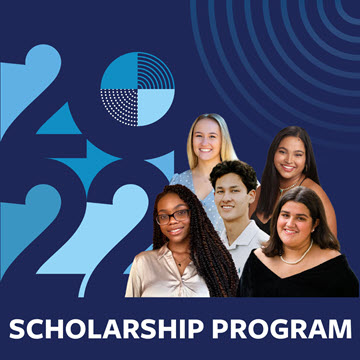 BCU is pleased to present 29 extraordinary young adults with scholarships totaling $93,500. This includes nine honorary awards – eight $5,000 Leader of Tomorrow Awards and one $3,500 Samuel G. O'Kelly Memorial Award for outstanding commitment to community service. With each completed application, BCU also donated $10 to UNICEF Ukraine, bringing the Credit Union's total 2022 contributions to $56,640, supporting humanitarian relief in Ukraine.
This year's recipients represent 13 states and Puerto Rico, with students planning to attend University of Alabama, University of Wisconsin: Madison, Purdue University, University of Notre Dame, Syracuse University and more.
The eight honorary Leader of Tomorrow Award honorees include Ashlesha Bhojane, recipient of the Vernon R. Loucks Jr. Leader of Tomorrow Award. Bhojane has a passion for medicine, service, health awareness and equity, especially as it relates to finance. "The first step towards closing the gap is to evaluate the current level of financial equity and inclusion and consider how they are affecting the community," said Bhojane.
Logan Carlson, recipient of the Ray and Irene Oddi Leader of Tomorrow Award, has served as Treasurer of the National Honor Society and participated in Purdue University's Boiler Vet Camp. Having served as Chapter Secretary, Vice President, and District VI Parliamentarian of the Future Business Leaders of America, Tyler Coots, recipient of the John Pellettiere Leader of Tomorrow Award, studies Marketing at the University of Arkansas.
Three-sport athlete and recipient of the Michele Hooper Leader of Tomorrow Award, Josephine Daniels, is passionate about remaining active in their community. Daniels is studying biology at the University of Missouri: Columbia. With a strong work ethic and passion for bioengineering, award-winning Science Olympiad, Hannah Kapur, was honored with the Tom Hodson Leader of Tomorrow Award.
Abigail Marchetta, a member of the Women In Stem Departmental Outreach Mentorship (WISDOM) program and recipient of the Charles Thurman Leader of Tomorrow Award, is on their way to becoming a pharmacist. Also majoring in chemistry is Mia Rodriguez, recipient of the Jose Cajigas Leader of Tomorrow Award. The award was created specifically to honor a deserving student from Puerto Rico, though any BCU scholarship can be awarded to students on the island. Rodriguez attends the University of New Haven and has earned a 2022 Summer Undergraduate Research Fellowship (SURF) Award.
The Margot Kaplan Leader of Tomorrow Award was awarded to politics major and member of Undergraduate Women in Law at the University of Virginia, Emily Schneider. "Not only does financial well-being positively impact the lives of individuals, but it helps foster widespread community growth through stronger collective decision-making," said Schneider.
Steven Austin was honored with the Samuel G. O'Kelly Memorial Award. As high school Valedictorian and National Merit Commended Scholar, Austin is attending the University of Iowa with a major in computer science and engineering.
In addition, 20 other students received scholarships and are pursuing a variety of majors including Exercise Science, Computer Science, Commercial Aviation, Finance, Education and more.
"Each year, I'm in awe at the incredible accomplishments and aspirations of our scholarship recipients, and I couldn't be happier that the Credit Union is helping support their futures" said Mike Valentine, BCU President & CEO.
Since 2014, BCU has awarded over $300,000 in scholarships. The program was established to assist members of the Credit Union who plan to continue their education. The awards are offered annually to students to support academic studies at an accredited institution of the student's choice. Selection criteria includes academics, participation in community activities, and demonstration of the Credit Union's Shared Values, with eligible applicants required to write a short essay.
View the full list of BCU's 2022 Scholarship Award recipients.
About BCU: BCU is a purpose-driven organization that empowers people to discover financial freedom. With $5B in assets, while being both not-for-profit and member-owned, the Credit Union is driven by the commitment to provide extraordinary service. BCU members enjoy access to financial services and well-being programming that inspire confidence through the brand promise "Here Today For Your Tomorrow." BCU is the financial well-being benefit partner for some of America's best companies, currently serving Fortune 100 workplaces throughout the United States and Puerto Rico. Lifetime membership is offered to employees and families of their company partners, and those living or working in Chicago-area communities. To learn more about BCU, visit BCU.org.