BCU Earns CUNA Excellence Award for Culture of Belonging
May 1, 2019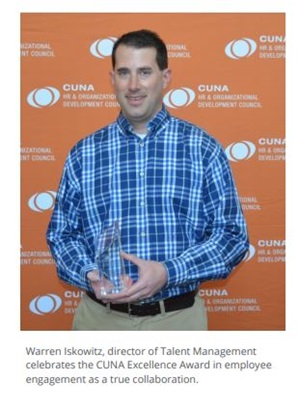 The CUNA HR and Organizational Development Council recognized BCU for its Excellence in Employee Engagement at its 25th annual conference in Anaheim, California. For BCU, the award is validation of the Credit Union's appreciation for employee individuality.
Warren Iskowitz, director of Talent Management said, "This award truly shows our commitment to an inclusive and diverse workplace. It really was a collaborative effort and I'm so glad we have gotten everyone on board."
Diversity and inclusion is often defined in terms of traditional differences, but BCU recognized that uniqueness is found in the talents, strengths, and experiences of each individual employee. With this forward-thinking mindset, BCU has been making it a priority to offer programs that promote cultural awareness, acceptance, and individualism.
"The programs championed by these winners truly exemplify the best of the credit union movement in the HR and organizational development field," said Jennifer Huggard, chair of the CUNA Awards committee. "The initiatives have a remarkable impact on credit unions and their members."
BCU's first initiative began with "The Power of Leading Inclusively" training seminar in 2017. The training has helped employees gain a clear understanding of unconscious bias, diversity, and the importance of inclusion in the workplace.
Soon after, BCU created a number of Employee Resource Groups (ERGs) which allowed employees to leverage their differences, advance their professional development and build communities through groups like "Women Engaged in Leadership" and "Service Superheroes".
With a passion for promoting mutual respect at its core, the Credit Union focused on creating a number of opportunities to highlight cultural awareness throughout the year, including Hispanic Heritage, Pride, and Black History Month celebrations.
"My relationships are more meaningful and productive when I can leverage my strengths and experiences. I don't want a seat at the table just because I'm African American," Anjoli Walker, Talent Management program lead said. "Once I feel that our leadership knows and values me, that's where I know I belong."
To measure its efforts, the Credit Union conducted an engagement survey among employees. The results found that 92% of the organization believes BCU values diversity and feel it encourages them to share their best efforts through an inclusive workplace.
"This award is one that holds particular significance to me," Mike Valentine, BCU President & CEO said. "It's a powerful example of our Shared Values in action – integrity, courage, collaboration and leveraging an incredible workplace culture that allows us to WOW our members with extraordinary service."