BCU Awards Member $1,981 To Commemorate 40th Anniversary Zelle® Launch

December 15, 2021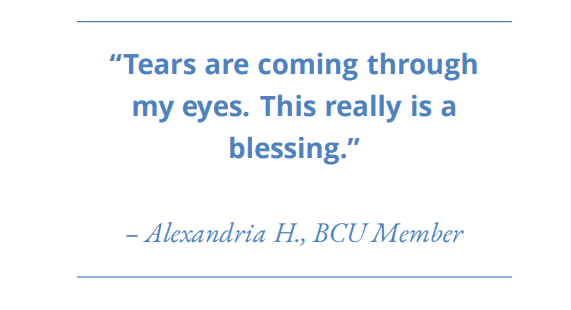 Chicago – BCU recently partnered with Zelle® to offer its members a fast, safe and easy way to send and receive money with friends, family and eligible businesses they trust right within BCU's existing Digital Banking platform.

The timing of this highly anticipated partnership aligns with the Credit Union's celebration of their 40th anniversary, making it the perfect opportunity to share the love. Throughout October, any BCU member who sent or received money via Zelle® within BCU's Digital Banking was entered to win a prize of $1,981 – a number that signifies the Credit Union's founding year of 1981.

"We've had so much to celebrate recently, and it's not lost on us that we wouldn't be able to reach these goals and milestones without our members," said Carey Price, BCU Senior Vice-President of Digital Strategy and Delivery. "Commemorating our anniversary by giving back to members is the perfect way to pay tribute to BCU's humble beginnings and encourage members to experience this new money movement feature."

The lucky winner, Alexandria H. in Davie, Florida was thrilled to receive the good news, which came from Eric Goscicki, BCU Senior Manager of Digital Product Management, via video call. "As the Zelle® implementation lead, I jumped at the chance to speak with Alexandria about her experience with Zelle® and, of course, share the good news," said Goscicki.

Alexandria was equally excited to receive the surprise. "Tears are coming through my eyes. This really is a blessing," she said. As a frequent user of third-party payment services, Alexandria was happy to see that she can now send and receive money with Zelle® in BCU's Digital Banking and has already taken full advantage of its ease and convenience. "It's an easy and smooth transaction for me," she said. In anticipation of the upcoming holiday season and any unforeseen future expenses, Alexandria plans to tuck her winnings away for a rainy day.

"It was so special to see first-hand how our efforts empower people to discover financial freedom – which is what BCU is all about." said Goscicki. "We strive to offer improved digital products and services to seamlessly integrate with our members' money goals." This includes more Digital Banking updates to come next year.

See how BCU surprised their member with the good news.
Zelle® and the Zelle® related marks are wholly owned by Early Warning Services, LLC and are used herein under license.
Disclosure: This promotion is not sponsored, endorsed, administered by or associated with Early Warning Services, LLC or Zelle®.
About BCU: BCU is a purpose-driven organization that empowers people to discover financial freedom. With $5B in assets, while being both not-for-profit and member-owned, the Credit Union is driven by the commitment to provide extraordinary service. BCU members enjoy access to financial services and well-being programming that inspire confidence through the brand promise Here Today For Your Tomorrow. Lifetime membership is offered to employees and families of America's best workplaces and those living or working in Chicago-area communities. To learn more about BCU, visit BCU.org.
Zelle®: Brought to you by Early Warning Services, LLC, an innovator in payment and risk management solutions, Zelle® makes it fast, safe and easy for money to move The Zelle Network® connects financial institutions of all sizes, enabling consumers and businesses to send fast digital payments to people they know and trust with a bank account in the U S Funds are available directly in consumer bank accounts generally within minutes when the recipient is already enrolled with Zelle® To learn more about Zelle® and its participating financial institutions, visit http://www.zellepay.com.