BCU Awards $88,500 in Scholarships to Undergraduate Students

December 1, 2021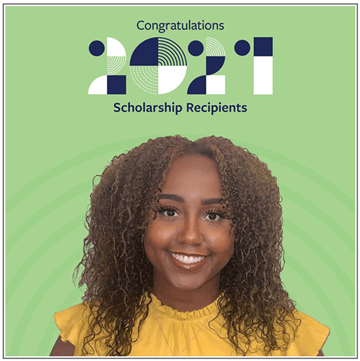 Chicago – Empowering People to Discover Financial Freedom is not just BCU's purpose, it's also its passion. 2021 marks the eighth year that BCU is "Here Today For Your Tomorrow," helping students explore what they're most passionate about – in school and beyond.

The 2021 Scholarship season drew a record number of applications. BCU is pleased to present 28 extraordinary young adults with scholarships totaling $88,500. This includes eight honorary awards – seven $5,000 Leader of Tomorrow Awards and a $3,500 Samuel G. O'Kelly Memorial Award for outstanding commitment to community service.

This year's recipients represent 12 states from coast to coast, with students planning to attend University of Southern California, University of Minnesota: Twin Cities, Tufts University, Spelman College, University of Notre Dame, and more.

The seven honorary Leader of Tomorrow Awards include Talia Benducci, recipient of the Charles Thurman Leader of Tomorrow Award, who served as a founding member of Women in Science and Engineering. "Once I turned 18, my dad quickly signed me up for a BCU account of my own. This award is immensely helpful as I continue my education," says Talia.

Leah Boskovich, recipient of the Thomas W. Hodson Leader of Tomorrow Award has served more than 130 hours with organizations including Family Assistance Ministries and Laura's House. With a strong passion for riding and caring for horses, Nicole Grant, recipient of the Margot Kaplan Leader of Tomorrow Award, plans to become an equine vet or tech.

"This opportunity brings me one step closer to my life goal as it will allow me to pursue the career of my dreams," said Anna Karcz, recipient of the John Pellettiere Leader of Tomorrow award. Anna is studying elementary education and pursuing her passion for teaching. From exploring the world of medical science through HOSA-Future Health Professionals and Science Olympiad, Shawn Meng, recipient of the Michele Hooper Leader of Tomorrow Award, is fascinated by the impact of medicine.

Katelyn Schmitt, recipient of the Ray & Irene Oddi Leader of Tomorrow Award, is eager to pursue her educational career in criminology and pre-law with a dream of working for the FBI. Majoring in business, Nathanael Wang, recipient of the A. Rex Johnson Leader of Tomorrow Award, aims to launch a non-profit to bring entrepreneurs and students together.

Britta Hornback, was honored as recipient of the Samuel G. O'Kelly Memorial Award, is a two-time U.S. gold medalist in individual figure staking and is passionate about building a healthier community.

In addition, 20 other students received scholarships and are pursuing a variety of majors including Kinesiology, Accountancy, Graphic Communications, Forensics, Meteorology, and Statistics to name a few. "This scholarship is extremely helpful in supporting my goal of becoming a surgeon," said Aditya Menon. "I hope that one day, I will be able to give back to future generations by starting and funding a scholarship of my own."

"It is wonderful to see so many student leaders pursuing their passion for education. They represent BCU's Shared Values in every way," said Mike Valentine, BCU President & CEO.

Since 2014, BCU has awarded nearly $210,000 in scholarships to students and is proud to have extended this opportunity to all undergraduate students this year. The scholarship program was established to assist members of the Credit Union who plan to continue their education. The awards are offered annually to students to support full-time study at an accredited institution of the student's choice. Selection of the criteria includes academics, participation in community activities, and demonstration of the Credit Union's Shared Values, with eligible applicants required to write a short essay.

View the full list of BCU's 2021 Scholarship Award recipients.
About BCU: BCU is a purpose-driven organization that empowers people to discover financial freedom. With $5B in assets, while being both not-for-profit and member-owned, the Credit Union is driven by the commitment to provide extraordinary service. BCU members enjoy access to financial services and well-being programming that inspire confidence through the brand promise Here Today For Your Tomorrow. Lifetime membership is offered to employees and families of America's best workplaces and those living or working in Chicago-area communities. To learn more about BCU, visit BCU.org.