BCU Invests in Financial Well-Being, Creating the Life. Money. You.® LLC
June 28, 2022
Chicago - BCU is pleased to announce the evolution of its home-grown financial well-being program, Life. Money. You.® (LMY), into a Credit Union Service Organization (CUSO). The program provides BCU employees, members, and Company Partners with tools and resources to improve their financial health. Access to LMY offers personalized financial wellness articles and interactive budget and planning tools such as the financial checkup which provides participants with a personalized financial health score and actionable next steps.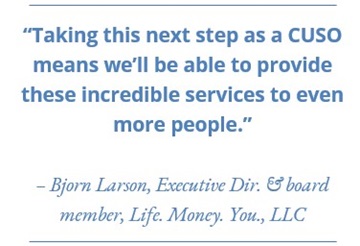 "As a financial institution, we are committed to supporting the financial well-being of not just our members, but of everyone," said Executive Director and board member of the newly formed Life. Money. You., LLC, Bjorn Larson. "Taking this next step as a CUSO means we'll be able to provide these incredible services to even more people." LMY also offers free credit score monitoring and certified Goal Consultants for one-on-one, personalized guidance at any stage of life. Josh Sledge, Senior Director of Incubation at Filene Research Institute and LMY board member and Vice Chairperson stresses the importance of financial tools such as those of LMY. "Oftentimes, people are left to their own devices when it comes to financial wellness. They're expected to bridge the gap between the products and services offered to them and the next best action for their situation." He continued, "Life. Money. You.® is bridging that gap by lending financial guidance in affiliation with BCU, helping participants of the program reach their financial goals."
The future of LMY is bright, with many opportunities ahead including aligning with BCU Company Partners such as Cardinal Health. Without an explicit financial well-being program itself, Cardinal Health's partnership with BCU and LMY opens new doors to improving well-being and performance among its employees. Melissa Dippold, Cardinal Health Benefits Consultant and LMY board member and Chairperson, said, "The CUSO will expand the breadth of what we can offer our employees, giving them the tools they need to continue being successful, both personally and professionally."
Visit BCU.org/LMY to stay up to date on future developments coming soon.
About BCU: BCU is a purpose-driven organization that empowers people to discover financial freedom. With $5B in assets, while being both not-for-profit and member-owned, the Credit Union is driven by the commitment to provide extraordinary service. BCU members enjoy access to financial services and well-being programming that inspire confidence through the brand promise "Here Today For Your Tomorrow." BCU is the financial well-being benefit partner for some of America's best companies, currently serving Fortune 100 workplaces throughout the United States and Puerto Rico. Lifetime membership is offered to employees and families of their company partners, and those living or working in Chicago-area communities. To learn more about BCU, visit BCU.org.