BCU Expands Community Reach with New Libertyville Branch
June 15, 2022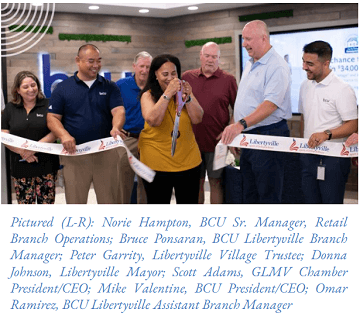 Chicago - In April, BCU opened their newest community Branch in downtown Libertyville, IL, just down the road from their Vernon Hills headquarters. The new Branch brings convenient access and best-in-class financial products and well-being services to those who live and work in the surrounding community.
A grand opening and ribbon-cutting celebration was held Thursday, May 12, attracting over 50 attendees, varying from Credit Union Members, Libertyville residents, and esteemed Community Partners including the Libertyville Mayor Donna Johnson, members of the Village of Libertyville, GLMV Chamber of Commerce and Mainstreet Libertyville, among Branch staff and BCU employees. In partnership with local businesses, prize baskets were raffled off to attendees and a BCU local favorite - Dos Amigos Mexican Restaurant – was served.
"We're so happy to have BCU here representing the community, providing their unique Credit Union services and valuing each person that walks through their doors," said Mayor Johnson. With over 60 Branches throughout the US and Puerto Rico, BCU is expanding their footprint to empower people to discover financial freedom. BCU Senior Vice-President, Branch Operations Dan Parsons shared his enthusiasm for the Libertyville Branch, saying, "I'm excited to support our employees, and nearby families, the community and businesses with the white glove service that BCU is known to deliver."
Interested in joining the Credit Union? Membership eligibility requires employment at one of our Company Partners, or to live or work in one of these six counties: Lake, McHenry, DuPage, Kane or Cook (north of 95th Street on the south side of Chicago) in Illinois, or Kenosha County in Wisconsin. This means that anyone who lives or works in Libertyville is eligible to bank at BCU's newest location.
"A standalone Branch like Libertyville's is a great way for us to reach those in the community who are seeking personalized financial support they might not get at a big bank," said BCU Libertyville Branch Manager Bruce Ponsaran. "During the grand opening event alone, we helped two families open memberships and get started on a lifetime of financial value."
For more information or to join the Credit Union, eligible residents can stop by the Branch at 929 N. Milwaukee Avenue or visit BCU.org/Libertyville.
About BCU: BCU is a purpose-driven organization that empowers people to discover financial freedom. With $5B in assets, while being both not-for-profit and member-owned, the Credit Union is driven by the commitment to provide extraordinary service. BCU members enjoy access to financial services and well-being programming that inspire confidence through the brand promise "Here Today For Your Tomorrow." BCU is the financial well-being benefit partner for some of America's best companies, currently serving Fortune 100 workplaces throughout the United States and Puerto Rico. Lifetime membership is offered to employees and families of their company partners, and those living or working in Chicago-area communities. To learn more about BCU, visit BCU.org.